Those fellows invested into welding will tell you how it's an impressive business. However, it involves working with dangerous tools like welders for excellent results. This implies that you require tools to offer capabilities of Lincoln 210 MP or miller 211 to handle your job on time and perfectly.
Well, if you are among those folks who are stuck in decision-making on choosing between Lincoln 210 MP and miller 211, stick to our article. This guide provides you with enough differences between the two tools and I am sure by the end of the report, you will be in a good position to make a firm decision.
It doesn't matter whether you want these tools for a serious task or a hobby; the tool at hand will determine everything. This article on Lincoln 210 MP vs. miller 211 will help you to understand which welder is best for your metalwork.
Differences between miller 211 and Lincoln 210 MP welders
| | | |
| --- | --- | --- |
| Parameter | Lincoln 210 | Miller 210 |
| Brand | Lincoln Electric | Miller Electric |
| Weight | 61.6 pounds | 38 Pounds |
| Color | Red | Blue |
| Processor type | Multiprocessor (flux-cored, MIG, DC stick and DC TIG welding) | Multiprocessor (flux-cored, MIG, DC stick and DC TIG welding) |
| Polarity | DC | DC |
| Input phase | Single | Single |
| Frequency | 60 Hz | 50/60 Hz |
| Voltage | 115V or 230V | 120/240V |
| Weldable materials | Steel / stainless steel, aluminum | Steel / stainless steel, iron, aluminum |
| Screen | User-friendly and colorful display | Colorful LCD |
| Fan-on-Demand | Automatic | Yes |
| Certification | CSA certified | CSA certified |
| Applications | Automotive, Repair & Maintenance, Distillery, General, fabrication, and Brewery. | Auto-body/Farm/Home, Maintenance & Repair, and Light Fabrication |
1. Miller 210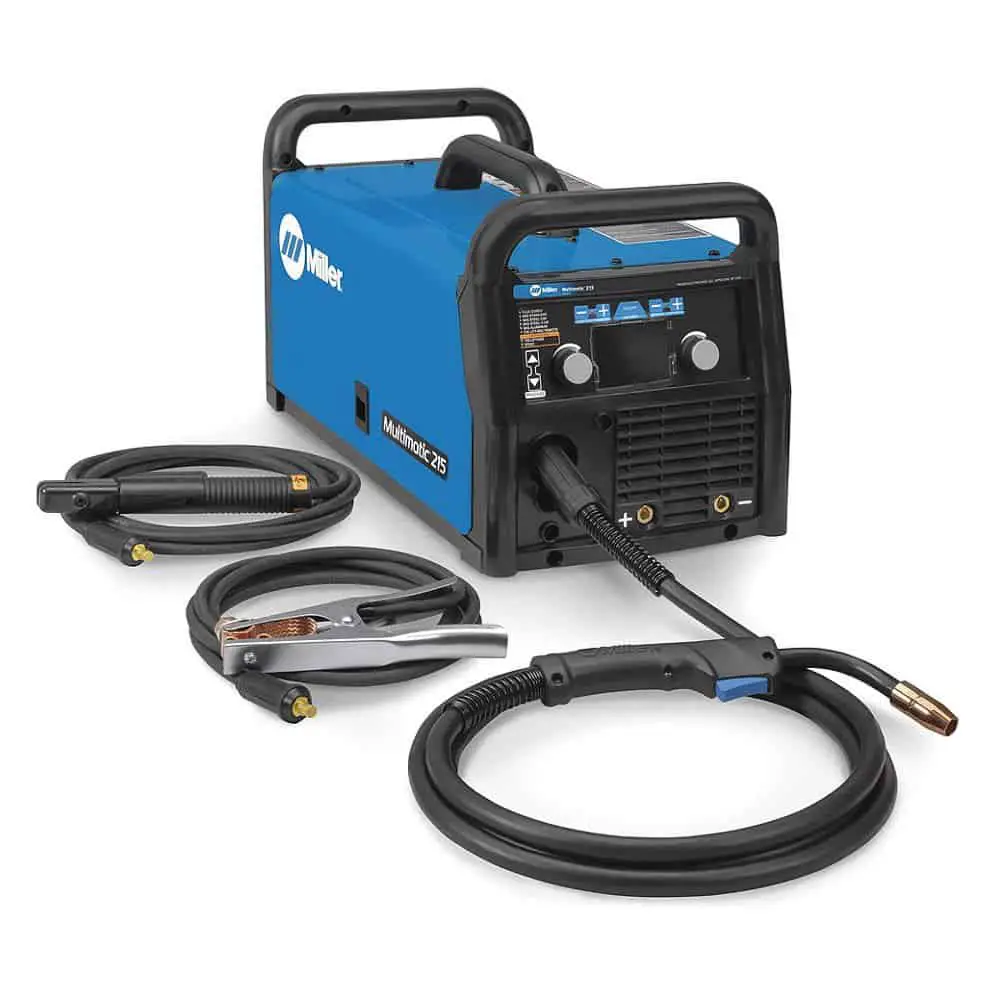 As much as excellent metalwork is concerned, choosing miller 211 welder can be your best bet. This device has been in the game since the 1900s and it's still doing great since many people give it their trust. The manufacturer never fails when it comes to impressive welding equipment; miller 211 is one of their technologies in the market.
Below are some features that make it unique;
User-friendly design: There's no need to strain with a welding machine anymore because here is the big deal. It comes with an excellent mechanism that allows you to calculate required settings based on your job at hand. You can therefore start welding right from its box; it doesn't matter whether you are an amateur or a pro.
However, miller 211 doesn't feature an LCD screen, meaning that you should be doing everything with the help of the three knobs. The knobs are located right on its front panel.
Thick-select drive: Here is another incredible feature that sets miller 211 far from its counterparts in the market. Such a feature therefore, allows you to easily switch it between various wire types. The manufacturer wanted to ensure your time and nerves are saved.
Fan on-demand: Sometimes non-stop fans can become annoying after an extended period of usage. Therefore, you will only use the fan in miller 211 when the need arises.

Is this not more economical? It not only helps to minimize noise, but also reduces dust attraction to the device's electrical components. On the other hand, the ladder is responsible for enhancing the lifespan of miller 211.
Auto-spool gun detection Mechanism: This feature might seem unnecessary to some folks, but it's really amazing. If you are after convenience in a welder, then this feature will help you a lot. The life of the welder will therefore be easier; and that's one of the major achievements of Miller Company.
Super lightweight machine: Miller 211 can be easily lifted and moved everywhere since it only weighs around 38 pounds. Yes and the inverter technology plays a vital role to make it achieve such capabilities. I know some folks may opt for Hobart transformer welders due to their durability and low price, but inverter welders tend to use upto 3x less electricity.
Therefore, investing on miller 211 will not only spare you from frequent welder replacement, but also reduce electricity bills. Miller 211 is a fantastic device that is durable, well built, and light enough for you.
Remarkable built: Any cheaper model won't offer such an attention like what you can get from miller 211. There are a lot of features that make the device handy, giving you top-class welding experience. On the other hand, its door hinges are remarkable as they're excellently built, making it robust; it won't break easily.
Power input: You can even plug this device on generators since it is inverter-based. This is therefore a clear indication that miller 211 is portable. Additionally, the machine can operate on any 120 Volts or 240 Volt systems. Such a feature makes the tool more versatile when it comes to small spaces.
Miller 211 output: Here is another fact that you should understand since it's more important. You are allowed to operate this machine on various generators and electric systems since it doesn't indicate the maximum output. Its amperage ranges from 30 to something like 230 amps.
2. Lincoln 210 MP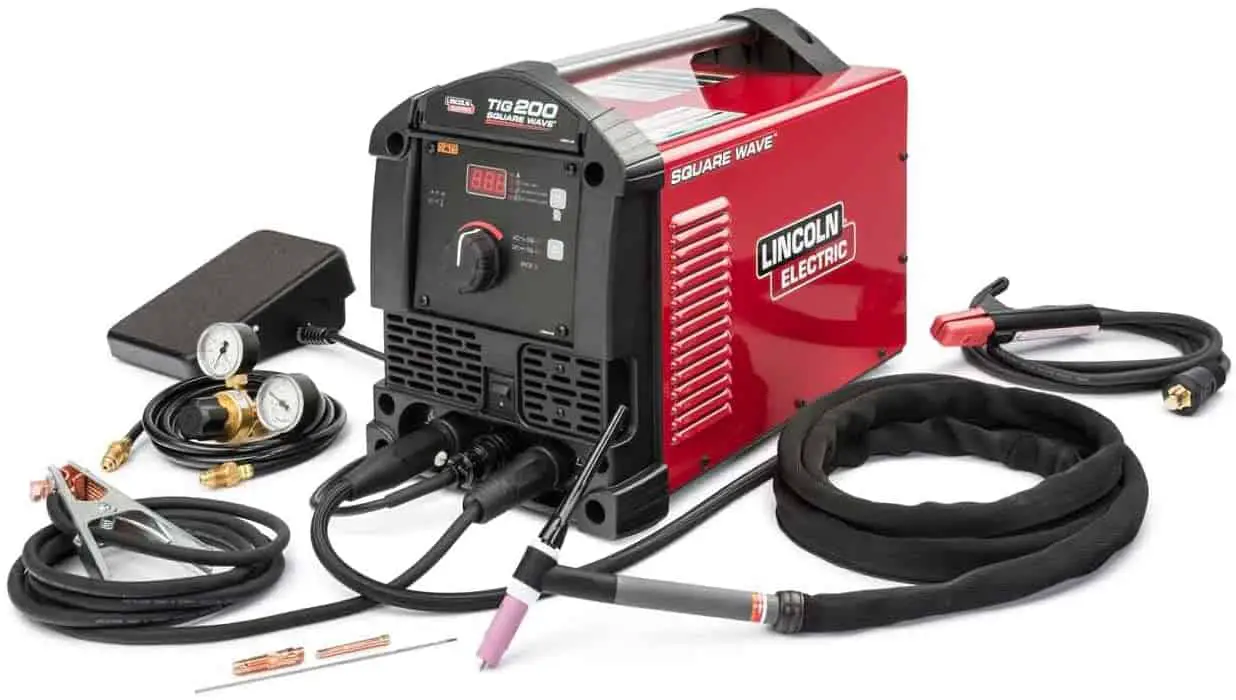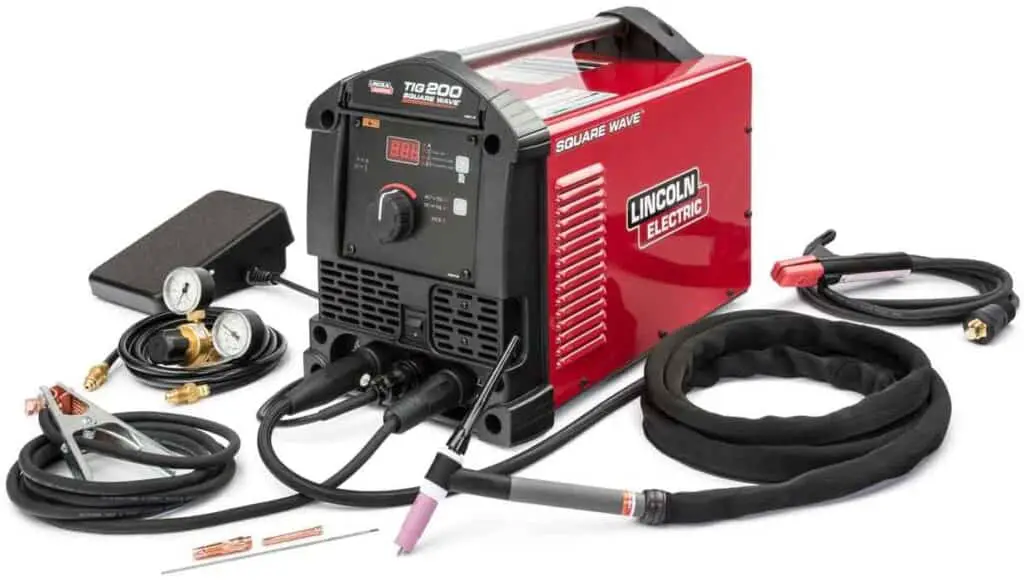 After looking at everything about the miller 211, it's now time to have a look at the Lincoln 210 MP. The device boasts unique features like offering you with more than one application.

The device is suitable for working complexes, hobbyists, plus other more demanding projects. Maybe this is the functionality you are lucking in your arsenal for elegant metalwork. Well, some of other features you should expect include;
Digital control system: The most admirable feature in this welder is the availability of its digital control system that allows you to operate it without the help of the display screen and setting.
User-friendly: Despite being Long-lasting, Lincoln 210 MP gives you a chance to control it easily based on your speed. It doesn't matter whether you are an amateur or a pro, this machine will give you ample time for easy operation. It achieves this through its user-friendly usage and network.
Convenient and portable: Moving this machine from one place to another isn't a big deal because it is highly portable. Its weight is convenient, meaning that one can easily lift it and maneuver around with it. Such a feature makes it convenient; how amazing is it to operate with a Lincoln 210 MP welder?
Dual-volt system: Any welder would wish to achieve best metalwork, and Lincoln 210 MP gives you the courage. Its voltage and dual input system ensures your final task is excellent. Additionally, the machine helps you to save on time that could be used to plug it in the machine source for typical power generation.
Superior cooling system: What about its cooling mechanism? I tell you, it's amazing. You will enjoy such a feature since it's responsible for long-term operation. You won't make stopovers in the name of giving the device time to cool; no, your welding will be non-stop.
Versatile system: The most impressive fact about Lincoln 210 MP is its versatility; it's multipurpose in nature. Therefore, the work connection and welding system will help you to quickly and easily achieve your welding in any given material. You should therefore not worry yourself about the type of materials or way through tasks ahead.
Power input: Just like miller 211, you can plug Lincoln 210 MP on generators since it is inverter-based. The portability is therefore enhanced as you can maneuver with it and handle a far-end welding task with the help of a generator.

Additionally, the machine can operate on any 115 Volts or 230 Volt systems. Such a feature makes the tool more versatile when it comes to small spaces.
| | |
| --- | --- |
| Miller 211 | Lincoln 210 MP |
| MERITS Lincoln 210 MP output: As per its name, this device can produce up to 210 and 140 with the 115V system. Lincoln 210 MP boasts several functions, allowing you to use them at the same time. As lightweight as you can easily move it from one place to another for convenience purposes. Cooling system. The presence of an automatic fan in the Lincoln 210 MP welder enhances cooling to the heating system. Fully certified. Lincoln 210 MP is approved by CSA which is a recognized authority. | MERITS Another excellent feature is ergonomic controls; even an amateur can use this machine. There's no need to spend your time studying the device. The welder is multitasking since it ensures all your welding needs are catered for. It is highly lightweight, making it portable for a strenuous task. There are multi-usage and functions in this welder, which I am sure can help you with the task at hand. |
| FLAWS | FLAWS |
| Another feature that you won't find in Lincoln 210 MP is the spool gun. Unfortunately, Lincoln 210 MP doesn't feature enough TIG kit, making it unsuitable for TIG welding. The flaw is that the device doesn't feature an aluminum source.  | Its ground clamp is not heavy-duty. It doesn't come fully equipped.  |

You might be interested to read our another comprehensive article of:
FAQs:
 Where is Miller 211 manufactured?
This welder is made in the USA
Which one is better between Miller 211 and Lincoln 210 MP?
Both the machines are excellent, but Lincoln tends to be more user-friendly compared to its counterpart.
Final words
With those many remarks, hopefully you can now determine which one is the best welder between Miller 210 and Lincoln 211 MP. The article has provided you with more than enough, touching on the differences, comparison table, merits and flaws. Carefully go through our report above for the best decision.