If you are into the welding business for some time, you are certainly familiar with the comparison between Lincoln 210 MP Vs Miller 215.
Both Lincoln and Miller are quite popular manufacturers of welding machines. They have manufactured two great welders of recent time, Power MIG 210 and Multimatic 215. Both of them splendidly perform the welding job, and also both of them are multi-purpose welders and capable of performing MIG, TIG, and Stick welding. 
If you are searching for a top-quality welding machine and cannot decide between Lincoln 210 MP vs Miller 215, we are here to present you with an in-depth comparison between these two top-notch welders.
4Lincoln Power MIG 210 MP: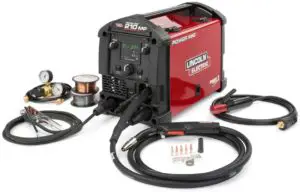 First, let's get a detailed discussion of the Lincoln Power MIG 210 MP.
Lincoln Electric is a reputed global brand for welding products. Their Power MIG 210 is an incredible multi-purpose welder with a wide range of functionality. It features two voltage inputs, 120 volts and 230 volts. Being tailored mainly for the hobbyist, it can also be convincingly used for complex and bigger projects. You will get a large color display with push-and-turn digital controls. This easy to operate a welding machine is one of the top picks for many professional welders.
Features:
Some of its key features are:
Portability:
It weighs only 40lbs. This extreme lightweight makes it portable to anywhere you want.
Dual Voltage System:
The dual input voltage lets you plug into any standard power supply.
Multi-Purpose System:
This is the best part of this machine. It lets you switch among MIG, TIG, and Stick welding as per your requirements.
Durability:
Being designed with top quality materials, it's durability and longevity are unparalleled.
User Friendliness:
Even if you have just stepped into welding, you can control Lincoln 210 because of its user-friendly network. The colorful display gives you complete instructions to set up the whole system.
Cooling System:
It offers you a cooling system along with a fan. The system gets activated only when needed. You can reduce energy consumption and noise as well.
Flux-Cored:
Lincoln 210 is a flux-cored welder, and that's why it is able to perform one of the biggest welding jobs.
Automatic Gun Detection:
It includes two separate gas connections for the MIG and TIG. You don't need to switch because of its automatic gun detection connection.
 Advantages:
Lightweight and portable
Multi-Purpose and welds
almost every metal
Packed with a ton of
functions in a single system
CSA certified and
comfortably surpassed the three years warranty
Top-quality material
A huge LED display leads to
the complete setup
The automatic fan cools
down the heated system
Disadvantages:
No TIG kit for TIG welding
Doesn't include spool gun
Cannot weld aluminum
Miller Multimatic 215 Multiprocess Welder: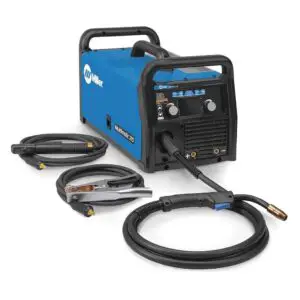 The name Miller Electric itself is enough to draw our attention in the welding universe. With their recent Miller Multimatic 215 Auto-Set Multiprocess Welder, they have gone one step forward to be one of the most reliable brands for welding machines.
Miller Multimatic 215 is a multi-purpose welder capable of MIG, TIG, and Stick welding. It is a 230 amp portable welder, runs on either 120 volts or 240 volts.
Features:
Miller 215 includes the following features:
Multi-Purpose Machine:
Along with MIG, TIG, and Stick welding, it also covers flux-cored welding. If you have this all in one machine, you don't need to buy different welding machines for different purposes.
User-Friendly Controls:
A colorful LCD lets you control the output. If you enter the thickness of the material, the arc will be automatically set. Moreover, the manual option allows you to do your job better.
Multiple Voltage Input:
The Miller 215 allows you to connect to both 120 and 240 volts without any additional connections. You just need to select the plug that fits for your welding.
Portability:
As it weighs only 38lbs, you can use it at your garage or carry it to the backyards if required. You can even fit in in your trunk while traveling.
Durability:
Just like the other Miller products, this is pretty sturdy and durable. You need not consider replacing it very soon because of its durable design.
Easy to Use:
Ease of control is another significant feature of this welder. You can effortlessly manage all the arcs and get a satisfactory product as the output.
Overheat Protection:
One of the most sterling features of this machine is the automatic shutdown when overheated. This feature saves the machine from unexpected breakdowns because of crossing the heat limit. In addition, it also shuts down when the duty cycle exceeds.
Automatic Gun Detection:
The automated spool gun detection system dictates whether MIG or spool gun is attached to the machine. This feature turns the need for a switch aside.
Advantages:
Offers a wide array of welding covering MIG, TIG, and
flux-cored welding
Saves your time by providing an easy controlling system
Automatic fan and auto shutdown system due to overheating protects the machine from damage beyond repair
Gives a spatter free smooth starting
Effortlessly portable because of extreme lightweight feature
The LCD interface makes it easy to adjust parameters
 Disadvantages:
Does not come equipped with additional accessories
A bit expensive
Lincoln 210 MP Vs Miller 215: Key Differences
According to many welders, the only difference between Lincoln 210 Power MIG and Miller Multimatic 215 is their color. They are actually right to some extent.
After a head-to-head competition between these two, we see that both of their fundamental features are quite similar. That's why their functionalities do not vary much.
But there are some key points which differentiate them from each other.
Multimatic 215 attracts customers offering incredible mobility with a weight of only 38lbs. Lincoln 210 is a bit taller than Multimatic 215 with an extra 2lbs weight. Though it focuses on
being sturdy rather than being portable, it is still easy to carry.
The Power MIG 210 can get up to 210 amps. But the Multimatic 215 is capable of going up to 230 amps with 240 voltage input. This extra power output can make a massive difference in the welding results, though both the manufacturers limit the thickness of material for welding.
Both machines come with a user-friendly set of features. But Multimatic 215 is a bit more convincing with some additional features. It includes a smooth start, angled wire drive, thermal overload protection, which are a big plus for this machine.
In terms of price, Lincoln 210 MP is cheaper. It costs around 1600 dollars. Multimatic 215 will cost you a little more, about 2300 dollars. However, this extra cost is entirely worth it because of the customer-friendly interface. But if you have budget issues, Lincoln 210 is an ideal option for you, which will provide you with the same quality service.
If you are still in confusion about which one to pick up, do yourself a favor and determine your needs. According to your requirements, you can decide which one would be the best suit for you. Regardless of your choice, you will not go wrong in any way as both the machines ensure standard quality welding results.
Final Verdict:
Multi-Purpose Welders are an exuberant option for welding in multiple processes without spending much money.
Both Miller and Lincoln have done a splendid job by introducing their Multimatic 215 and Power MIG 210, respectively,
the two most fantastic welding machines in the multi-purpose range. It is really a hard choice to consider one as the winner between these two versatile, high-quality welders.
If you are more into an easy operating interface and some extra cool features, go for Multimatic 215. But if you want the same kind of functionality by spending a little less, definitely your pick should be Lincoln 210. We hope our review of Lincoln 210 MP vs Miller 215 would come out for your rescue to choose between these two.